Google will increase the price it charges advertisers to reflect new digital services taxes being levied in the UK, Austria and Turkey.
A letter sent to advertisers overnight and sighted by The Register opens: "On November 1, 2020, Google will begin charging new fees for ads served in the United Kingdom, Turkey, and Austria."
The extra fees in the UK and Austria are styled a "DST Fee" – and a Google explainer titled "Country-specific fees" explains the acronym by saying "The fee is driven by the new digital services tax in that country." Said tax came into effect on April 1st, 2020, and is levied at a rate of two percent.
Which is the exact amount of a new fee Google says will appear on advertisers' invoices come November 1st (for ads served in the UK).
The new regime also passes on Austria's five percent digital services tax.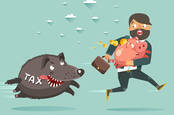 eBay won't pass UK Digital Service Tax costs on to third-party sellers – unlike Amazon, which simply can't afford it
READ MORE
In Turkey things are more complex because while the nation's digital services tax is 7.5 percent it is calculated on gross revenue across a certain period with allowances for exchange rates. Google says its five percent charge in Turkey reflects "significant increases in complexity and cost of complying with regulations".
Google says the fees will be charged over and above the cost of ads, so organisations that set budget ceilings with its ad services will see their bills bumped by two percent. The fees may even be charged after the balance of a Google advertising account is depleted. If that happens, Google will thoughtfully deduct fees owed from advertisers' next payments.
And you'll probably end up paying, too, because advertisers build the cost of ads into the prices they charge for their goods and services. Now that the cost to advertise beer, bread, bacon and any other commodity on Google just rose, brands will surely pass on their extra costs rather than wear the pain on their own bottom line.
Just as Google has chosen to do. ®
[from https://ift.tt/2m5N8uC]