With 350 million registered users, and that recent in-game Travis Scott 'concert' watched live by nearly 28m people – Epic Games' battle Royale hit Fortnite is generating some serious interest in the music industry.
In the background, the mobile version of the game has been generating some serious revenue.
The mobile version of Fortnite has crossed $1 billion in lifetime player spending on the App Store and Google Play, in just over two years after its release.
Average revenue per download for Fortnite is approximately $7.70.
This huge milestone follows both Fortnite's launch on Google Play in April and the aforementioned virtual Travis Scott event, with these two factors contributing to player spending of $44.3m last month alone (see below), up 90% from March and 25.3% year-over-year.
That's according to new estimates published by respected analytics firm Sensor Tower, which reports that players in the United States accounted for $632.2m, or approximately 63% of total spend.
The UK ranked No.2 with player spending of $38.2m (3.8%), with Switzerland coming in at No.3 ($36.3m) with 3.6% of total spend.
---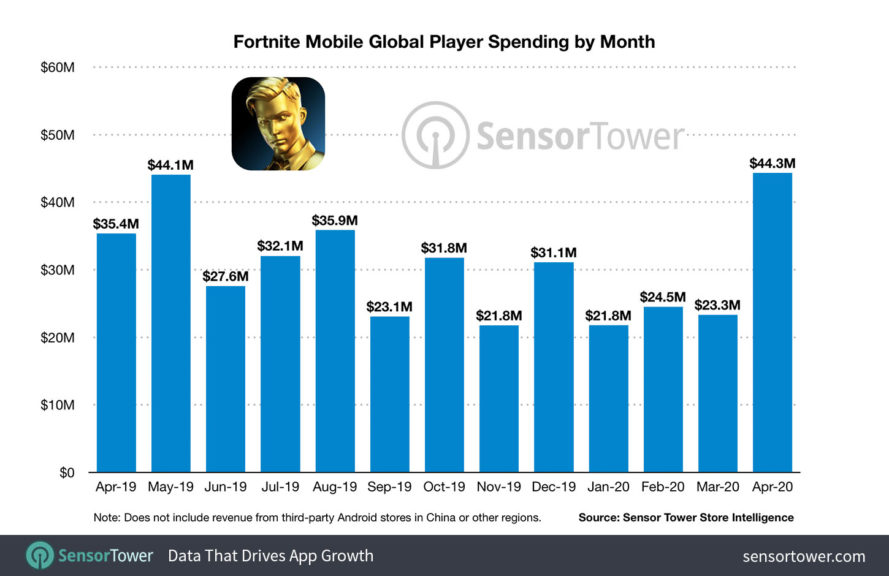 ---
To date, according to Sensor Tower estimates, Fortnite has generated more than 129m downloads on the App Store and Google Play, with the US coming in at No.1, accounting for 39.6% of the total (over 51m unique installs).
At No.2, the UK accounted for more than 8m downloads (6.3%) and France came in at No.3 with 5.7m downloads (4.4%).
The App Store has generated 125m installs, or 96.7% of the total.
"Events such as the Astronomical concert offer a glimpse at how games can be used to bring people together on a massive scale in virtual worlds."

Sensor Tower
"While Fortnite's revenues on mobile had recently declined since its early highs, the battle royale title remains one of the world's top performers on mobile, an impressive feat considering only App Store revenue was tracked up until last month," reports Sensor Tower.
"Fortnite has left an indelible mark on the mobile gaming landscape – it rewrote the script on what's possible on mobile and with cross-platform gaming, the battle pass system is increasingly being mimicked by other publishers, and its events such as the Astronomical concert offer a glimpse at how games can be used to bring people together on a massive scale in virtual worlds.
"With the launch of the Party Royale mode, in which weapons and crafting are not enabled, Fortnite is once again forging a path forward for others to follow."
---
Last week, MBW spotted that Sony Music was hiring for a number of roles in Los Angeles, "dedicated to reimagining music through immersive media".
Interestingly, these positions included specialists in working with Epic's Unreal Engine.
Yesterday, we reported that Epic Games has just released a tech demo of its upcoming Unreal Engine 5, and says it will upgrade Fortnite to become a UE5 game in mid-2021.
Following the success of Travis Scott's Astronomical Fortnite show in April, Fortnite hosted live sets on its 'Main Stage' over the weekend from Dillon Francis, Steve Aoki, and deadmau5.
Fortnite's latest virtual concerts follow last year's in-game Marshmello set, which saw the bemasked DJ/producer played live to over 10 million people in smash video game.Music Business Worldwide
[from https://ift.tt/2kVf04A]