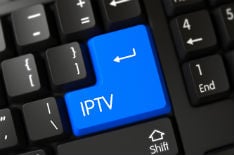 In years gone by, major movie and TV show companies would regularly team up under the umbrella of the Motion Picture Association of America to take action against pirate sites and services.
While that's still the case today, the MPA (as it's now known) is now heading up the Alliance For Creativity and Entertainment, a global anti-piracy coalition featuring a who's who of global content companies. This means that ACE members' interests can be handled in a centralized way, tackling platforms that often infringe many of the group's rights.
ACE has taken a particular interest in 'pirate' IPTV providers and we can now confirm that another two have fallen after being targeted by the group's lawyers.
T.KO TV appears to have been one of the many resellers of IPTV packages flooding the Internet today. Boasting around 3,200 channels, the supplier offered subscription access to premium TV backed up by "award-winning customer service," words that are rarely associated with anything in the piracy world.
Whatever was going on at T.KO, whether that was flawless pirate streaming or scooping up awards for making pirate streamers happy, the show is now over. While the service previously sported a big fist on its Vimeo channel, the big fist of ACE has now shut the operation down. And, like so many similar operations, its domain is now owned, operated, and redirected by the MPA.
It's a very similar story for DripTV, aka Drip Hosting. Where once there were offers of thousands of channels at a bargain price, the main domain of the provider now flashes up the ACE countdown warning before diverting to its familiar anti-piracy portal.
According to Whois records the domain was first registered April 9, 2019 but on April 23, 2020, just over a year later, it joined the MPA's growing list of seized domains.
There will be some who will question the effectiveness of ACE spending time taking down some of this low-hanging fruit but as the domains mount up, together they represent many thousands of former IPTV subscribers who have now lost their money or, at the very least, have to find a new supplier.
If nothing else, ACE's seizures will help to undermine confidence in the market and might also spook a few other suppliers too.
With noticeably more enforcement, it seems that IPTV is getting a little messier overall and in some cases, less accessible too. With sellers disappearing to Discord channels rather than easily targeted websites, the barrier to entry is slowly being pushed a tiny bit higher every few months. ACE will hope it's soon out of reach for the average punter.
From: TF, for the latest news on copyright battles, torrent sites and more. We also help you to find the best anonymous VPN.
[from https://ift.tt/148uEe4]