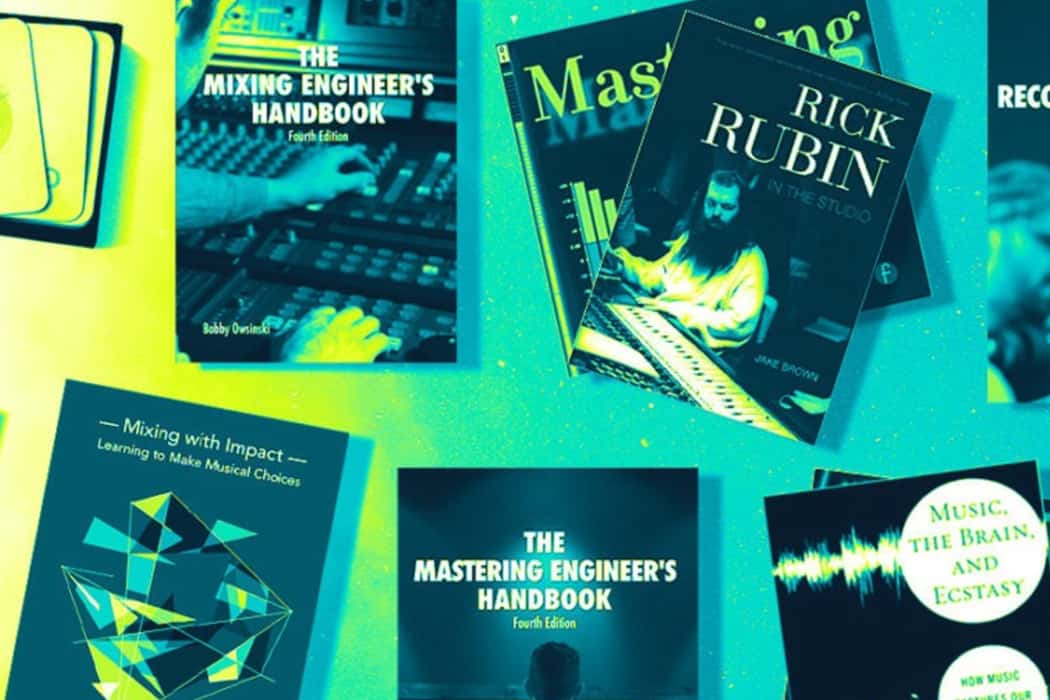 11 Best Music Production Books You Should Read In 2020
If you're using this time in isolation to catch up on your reading, but want to use this time to improve your music production chops, we have a few book you should consider cracking open.
Guest post by Alex Lavoie of Soundfly's Flypaper
It takes a lot of knowledge and knowhow to get better at music production, studying a few music production books can help.
Practicing is always the best way to get better, but sometimes it's important to sit down and dive into the theory. If you aren't sure where to get a solid foundation in music production knowledge there are lot great minds in the production world that are worth paying attention to.
Whether you want to know about the technical aspects of recording, mixing, or mastering, or the philosophy behind making good music, here's our list of music production books you need to read this year.
1. Mixing With Impact
This book takes the number one spot because it was recommended by Landr Senior Audio Engineer Al Isler (make sure to check out his YouTube series). In Mixing With Impact, Wessel Oltheten explores many practical aspects of mixing but combines his expert knowledge with useful, artistically minded advice.
Mixing is as much an art as it is a science, and Oltheten provides that balance with useful perspectives on this topic.
2. The Mixing Engineer's Handbook
For a comprehensive look at mixing check out The Mixing Engineer's Handbook by Bobby Owsinski. This handbook is one part of a three-book series of music production handbooks that cover Recording, Mixing, and Mastering, and this one is an in-depth guide into modern best practices in mixing while blending in time-tested techniques. In fact, the trio is so essential that we cover all three in this list!
Owsinksi covers all the essentials by breaking down the mixing process into understandable lessons. You'll learn everything you need to know for different mix styles, arranging rules, mix building, EQ, reverb, layering, and more!
3. Mastering Audio: The Art and the Science
This book is the most comprehensive text that covers absolutely everything you need to know about mixing and mastering between two covers. Bob Katz's Mastering Audio: The Art and the Science is the textbook where many audio engineers start with getting a formal education. While it can be a little bit dense at times, you can find pretty much every imaginable detail about both mixing and mastering in this book.
4. How Music Works
While it's not explicitly about music production, this New York Times best-selling book is a must-read for any musician, music producer, or creative artist. In How Music Works, music legend David Byrne takes a comprehensive look at what it takes for music to function. Byrne walks through his unique views on how context, location, dance, set design, technology and more play a role in creating good music.
5. The Recording Engineer's Handbook
The second instalment in Bobby Owsinki's trio of music production books is The Recording Engineer's Handbook. Much like its counterparts, this text focusses on miking techniques for recording any musical instrument with a special look at miking drums. Owsinski also discusses the art of studio recording and outlays his tips for getting the best performance out of a vocalist and his secrets for getting the best sound without expensive gear.
6. Rick Rubin: In the Studio
Rick Rubin: In the Studio follows the legendary music producer around the studio to unearth his process and trade secrets. Author Jake Brown gives a glimpse into Rubin's early days and his long and successful career having worked with many of the world's biggest artists. If you want to get inside the head of Rick Rubin and begin to understand where his unique recording philosophy comes from, this novel is an excellent place to start.
7. Behind the Glass
In Behind the Glass, Howard Massey sits down for interviews with a collection of high profile recording engineers and music producers. Massey expertly encourages guests such as Brian Wilson, George Martin, Phil Ramone and others to open up about their recording process, techniques, and philosophy. This deep dive into the head of one of the world's best is a great read for any music producer looking to expand their knowledge and get some inspiration.
8. The Mastering Engineer's Handbook
The third and final Bobby Owsinksi book on this list is The Mastering Engineer's Handbook. This text focusses specifically on the ins and outs of mastering a track. While today is possible to get great masters with automated AI software, learning the practice of mastering is still useful for music producers. With this edition, you get all the knowledge and knowhow to create great sounding masters on your own.
9. Temples of Sound
Temples of Sound looks at famous music studios from past eras. From the hallowed halls of Sun Records to the state of the art facilities in the Capitol Records building, William Clark and Jim Cogan tell the stories of about 15 distinct production studios. Get a never-before-seen look into a few of the most legendary studios in music history with exclusive pictures and in-depth interviews.
10. Oblique Strategies
Alright, this isn't really a book per se, but it is a very useful resource to have around the studio if you find yourself or the people you work with struggle with finding creativity. Oblique Strategies is a set of 208 cards designed by Brian Eno to help artists create boxes and limitations to stimulate creativity. Each card contains phrases that ask the artist to take specific actions, consider key thoughts, or use specific limitations in their creative process. The card set is a great tool for settling disputes between band members or reducing deadlock in the studio and has been used by the likes of MGMT, Coldplay, and others.
11. Music, The Brain, and Ecstasy
Robert Jourdain takes a deep dive into why music sounds so good to human ears and how different sounds trigger such a variety of responses. Music, the Brain, and Ecstasy is a great book if you've ever wondered about the physiological reasons for why a wailing Oboe can bring someone to tears, or why a specific song can make you feel amazing. In understandable language, Jourdain dives into the neurological and physiological science behind what gives us our uniquely human appreciation for music.
Getting your knowledge up is an excellent way to get better at music production.
But remember, your knowledge is only good once you start putting it into practice.
Always keep learning but don't get too bogged down with theory. Keep your creation workflow open and don't let anything stop you from making cool tracks!
Alex Lavoie works as a Marketing Strategist at LANDR by day and moonlights as a drummer for folk-rock outfit The Painters.
Share on:
[from https://ift.tt/2q5EXmO]