Google will no longer pay top execs fat severance packages not only if they are fired for sexual harassment and other misconduct but also if they leave mid-investigation into their behavior, it announced on Friday.
"We're building on our current practice of prohibiting severance for anyone terminated for any form of misconduct, and expanding the prohibition to anyone who is the subject of a pending investigation for sexual misconduct or retaliation," Google's veep of people operations Eileen Naughton said in a statement.
"Managers will also receive guidance instructing them on how misconduct should impact an employee's performance evaluation, compensation decisions, and promotion outcomes."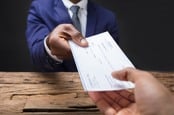 Alphabet board smacked with sueball for paying off Google execs accused of sexual harassment
READ MORE
The changes were made as its parent company Alphabet reached a settlement to end a shareholder lawsuit brought against it last year, CNBC reported Friday. That complaint accused Google of inappropriately writing huge checks to staff who ejected from the company after facing allegations of sexual misconduct. The payoffs dented Google financially and wrecked its reputation, it was claimed.
For instance, the search giant's co-founders Larry Page and Sergey Brin signed off on a $90m payment to Andy Rubin, a Google senior veep, well-known for leading the development of Android, who stepped down amid allegations he pressured a female subordinate into performing oral sex on him and claims of him keeping sex bondage videos on his work computer.
A similar situation unfolded when its chief legal officer David Drummond decided to leave in January. Jennifer Blakely, who was a senior contracts manager in Google's legal department, said in a blog post in August last year she had an affair with Drummond back in 2004 when he was still married. A few years after Blakely gave birth to their son, Drummond left their relationship and later married a woman who had left Google and then rejoined the biz.
Although he was not given any pay off when he quit at the turn of 2020, he had sold large amounts of stock valued at more than $70m every month over the course of three months leading up to his exit.
Fast forward to today, and Alphabet has promised to spend $310m on programs aimed at increasing the diversity and equity in its workforce, as well as putting together a Diversity, Equity and Inclusion (DEI) Advisory Council that will investigate how well the company is withholding its DEI commitments every quarter.
"Recent years have involved a lot of introspection and work to make sure we're providing a safe and inclusive workplace for every employee. That doesn't stop here and you'll receive reports on our progress as we move forward," added Naughton.
"I'm grateful to everyone, especially our employees and shareholders, for providing us with feedback, and for making sure that the way we tackle these vital issues is better today than it was in the past." ®
[from https://ift.tt/2m5N8uC]