Google's Australian tentacle has published a pair of protestations that repudiate Australia's "News Media Bargaining Code" plan to have the advertising giant pay local news outlets for linking to their content.
One is an open letter to Australians by Google Australia managing director Mel Silva, and offers the following argument: "A proposed law, the News Media Bargaining Code, would force us to provide you with a dramatically worse Google Search and YouTube, could lead to your data being handed over to big news businesses, and would put the free services you use at risk in Australia.
It's not clear why Google believes the code "could lead to your data being handed over to big news businesses", given an FAQ for the draft code says the following:
Silva's letter is closer to the mark with its observation that "News media businesses alone would be given information that would help them artificially inflate their ranking over everyone else, even when someone else provides a better result", as the code was created explicitly to see funds flow from Google and Facebook to organisations that run newsrooms.
"We deeply believe in the importance of news to society," Silva continues. "We partner closely with Australian news media businesses — we already pay them millions of dollars and send them billions of free clicks every year. We've offered to pay more to license content."
But Silva says the code will lower the quality of Google's services and pledges the company will therefore "… do everything we possibly can to get this proposal changed so we can protect how Search and YouTube work for you in Australia and continue to build constructive partnerships with news media businesses — not choose one over the other."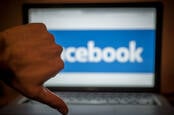 Facebook caves to Australia's call for explanations of News Feed algo changes
READ MORE
A second post, by APAC head of YouTube Gautam Anand, argues that the code will make it harder for creators that use YouTube to turn a quid.
"The imbalances created by this proposed law could potentially affect all types of Australian creators, far beyond those who focus on news: from vloggers, to educational creators, to music artists and beyond," Anand argues.
He signs off by telling YouTubers "In the coming days, you'll hear more from us about how you can get involved."
Which sounds like Google Australia may try to foment some grass-roots activism.
The company appears to be already using its platform to ensure Australians get a chance to learn of its opposition to the code, with locals sharing search results featuring pop-ups linked to the posts above.
®
Bootnote: A quick reminder that The Register is not eligible to received payment for our news under Australia's plan and is reporting this matter because it is potentially a global precedent for how publishers and web giants interact and therefore of likely interest to readers as you contemplate your future experience of the web.
[from https://ift.tt/2m5N8uC]