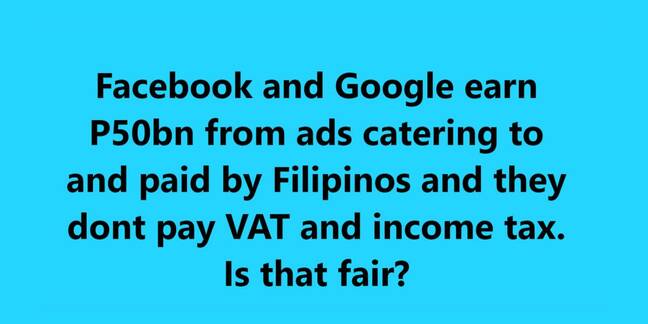 From Philippines MP Joey Salceda's Facebook page
The Philippines will consider a digital services tax after the head of the nation's Ways and Means Committee, Joey Salceda, proposed one as a measure to increase the nation's post-pandemic tax base.
The Committee is The Philippines body concerned with all fiscal matters and Salceda is a member of the ruling PDP–Laban party, meaning his idea is likely to receive a warm reception.
Salceda explained his proposal on Facebook, where he said the bill's aim is to clarify that electronic services are subject to The Philippines value-added tax. His post names Google, Facebook, Netflix, Spotify and AirBnB as targets and suggests that big Asian e-tailers Lazada and Shopee be compelled to gather VAT and remit it to The Philippines.
"Simply put, these are not new taxes," Salceda wrote. "These are tax administration measures that we hope will capture the value more fairly…. Especially when local businesses are struggling due to Covid-19, and there are these companies that are making a killing because of isolation, but are not paying enough taxes." That's a reference to the Philippines' strong lockdown that has shuttered local businesses but left e-tailer free to deliver goods.
While tech giants have generally pushed back against such taxes around the world, Salceda's post added a show of support from Grab, the ride share service that dominates Asian markets after Uber closed its own operations in the region and took a stake in the local player. A screenshot of what appears to be a text message from Grab's head of public affairs endorses the tax proposal, because "It's about time we have a measure like this."
Salceda suggests that imposing VAT on digital services will raise ₱29.1bn (US$570m), which is just under 1 per cent of all tax collected in the country.
The proposal comes just days after Indonesia outlined its own digital services tax that also has the aim of increasing tax during the post-pandemic economic mess.
The bill is listed as number HB06765 by the Philippines Congress', but text of the draft law is not available at the time of writing. ®
Bootnote: The next item in Scaleda's Facebook feed after his points about tax links to a story titled "Salceda warns PNP to stop illegal cockfights in Albay".
Sponsored: Ransomware has gone nuclear
[from https://ift.tt/2m5N8uC]