All the way back in 1996, the world of videogaming witnessed a massive event. Edge, the most adult, cerebral video game magazine available at the time, reviewed the Nintendo 64 title Super Mario 64 and gave it an unprecedented 10/10.
In today's world where games publications saturate the Internet, it's difficult to state the importance of that moment. Edge, without exception, had previously found fault with every other game ever reviewed and when other publications gave out 7/10 scores for average titles, Edge stubbornly refused to give a middling game any more than 50% approval.
That was 24 years ago and despite the massive technological changes witnessed during the last quarter-century, the warmth gamers feel towards Super Mario 64 has only grown. That's why there were few dry eyes in the house when a fan-made PC port of the legendary title hit the Internet last weekend.
"The fan-made port, which was first shared on social media sites this weekend, was made possible by a 2019 recompilation project which saw fans reverse engineer the game's source code," wrote VGC, which first reported the news.
Unlike the emulated versions of SM64 that preceded it, this was a full-blown DirectX 12 port that enabled 4K resolutions, support for ultra-widescreen monitors, plus gameplay facilitated by modern interfaces such as the Xbox One controller. But while modern gamers and historians bathed in the sunshine of this N64 classic, many realized that dark clouds would eventually appear on the horizon.
Perhaps more than any other videogame company in existence today, Nintendo has become associated with a determination to vigorously defend its intellectual property rights and it didn't take long for this PC-powered title to land on its radar. Despite most discussion forums such as Reddit suppressing links to the game's executable, it soon began to disappear from file-hosting sites.
The action, at least in part, was taken by US-based law firm Wildwood Law Group LLC, a company known to work with Nintendo in its efforts to suppress the availability of modding tools and products. One of its complaints filed with Google this week and obtained by TorrentFreak reads as follows:
"The copyrighted work is Nintendo's Super Mario 64 video game, including the audio-visual work, software, and fictional character depictions covered by U.S. Copyright Reg. No. PA[REDACTED]," the notice reads.
"The reported file contains an unauthorized derivative work based on Nintendo's copyrighted work."
While the registration number has been redacted in the complaint, the copyright registration number is almost certainly PA0000788138. That was also referenced in a complaint filed by Nintendo against Cloudflare in 2015 when the gaming company was attempting to remove a browser-based version of Super Mario 64 from the Internet.
At the time of writing, at least one of the recent complaints filed by Nintendo's law firm has curiously failed to take down the content in question. We obviously won't link to it here but the SM64 PC-port executable is very much alive on the targeted Google Drive URL, as the image below shows.
Other locations haven't been so lucky, however. Copies uploaded to various file-hosting sites have now been removed and several Reddit posts linking to the game have been deleted too. Fans have been sharing hash values of the files though, which can still yield results with the right search techniques.
Attempting to spoil the fun for those who'd simply like to see the game in action, Nintendo has also been targeting YouTube videos featuring the title running on PC. One example, titled "[ Gameplay ] Super Mario 64 – DX12 PC Port – 4K" was deleted following a copyright complaint, as the image below shows.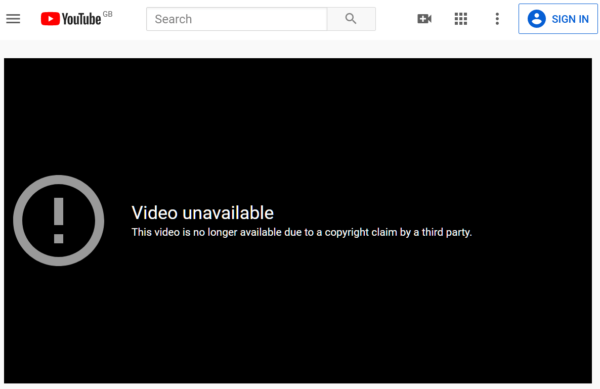 In other news, Nintendo suffered a significant data leak this week which included the original Nintendo 64's source code, among a trove of other data. The twist here is that according to sources familiar with the Super Mario 64 PC port, that data was leaked too and wasn't yet scheduled for public consumption.
From: TF, for the latest news on copyright battles, torrent sites and more. We also help you to find the best anonymous VPN.
[from https://ift.tt/148uEe4]