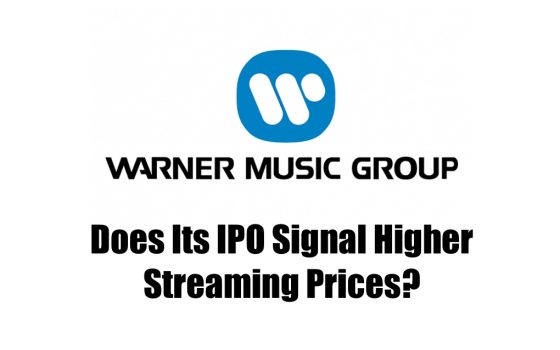 Warner Music IPO Suggests Streaming Price Increase
While Warner Music Group and now UMG's announcements that they will file for an IPO are not especially surprising, indications in WMG's filing that an increase in streaming prices could soon be coming was far less expected.
Guest post by Bobby Owsinski of Music 3.0
Warner Music Group announced that it was filling for an IPO last week, and while that in itself wasn't particularly earth-shattering news, one particular statement in its required S-1 filing was. It indicates a change that may be coming soon to online music distribution services in the form of streaming price increases.
"We believe that, over time, streaming revenues will increase due to pricing increases as the broader market further develops," the filing states. "Streaming services are already at the early stages of experimenting with price increases. For example, in 2018, Spotify increased monthly prices for its service in Norway. In addition, in 2019, Amazon launched Amazon Music HD, a high-quality audio streaming offering that is available to customers at a premium price in the United States. We believe the value proposition that streaming provides to consumers supports premium product initiatives."
The Good And Bad Of Higher Prices
What's interesting here is that streaming price increases are somewhat counterintuitive. In any mature industry you expect prices to fall after widespread adoption as more competition enters the marketplace. Music pundits have said for quite a while now that the streaming would explode with a lower price point ($4.99 is said to be the sweet spot for pricing) and push the users getting the product for free off the fence into becoming paying subscribers.
On the other hand, streaming as it stands is a low-margin business, especially for the streaming services. That's why Spotify is so keen on the podcast business – it gets lots of new and popular content without the need to pay a licensing fee as they do with music. Streaming price increases would supply the extra income that many of the independent services (Spotify, Tidal, Deezer, for example) need to stay alive, as well as supply more money to creators and copyright holders.
The IPO
There's no word yet as to the valuation of the company when it does go public as the number of shares of common stock to be offered and the price range for the offering have not yet been announced. The underwriters of the offering are probably using the announcement to size up interest first.
Another interesting offering point is that Warner Music owner Access Industries will retain a majority of the voting shares in order to maintain control over the company. That's positive for a company who's product is based around creators. There's enough of the corporate suit culture around already, although that will get more intense should the offering go through.
While the Warner Music IPO doesn't directly have much to do with artists not connected to the company, it does give an insiders hint of the streaming price increases that may come. The big question is, will this drive users away or not?
Share on:
[from https://ift.tt/2q5EXmO]