Senior healthcare techies have warned England's National Health Service (NHS) that it will need to be open with industry professionals and the wider general public as it forges ahead with the collation and potential sale of millions of Brits' medical records via a mega database.
As exclusively revealed by The Register on 12 December, senior heads at Microsoft, AWS, AstraZeneca and other businesses met behind closed doors with leaders of the NHS to thrash out ways to create a commercially valuable repository of 65 million patients' data to improve healthcare, and mull ways to fund or even profit from it.
The meeting of more than 30 named invitees was also attended by NHS England chairman Lord David Prior, NHS improvement chairwoman Baroness Dido Harding, Professor Sir John Bell, who wrote the government's Life Sciences Industrial Strategy and Jonathan Symonds, chairman of Genomics England.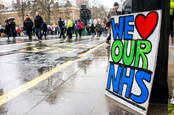 Revealed: NHS England bosses meet with tech and pharmaceutical giants to discuss price list of millions of Brits' medical data
READ MORE
The move, branded by sources familiar with the meeting as "Son of Care.Data" - the first being that mass NHS data-sharing initiative with private organisations that was eventually abandoned in July 2016 over confidentiality concerns - has ruffled some feathers because it was discussed in an invite-only meeting.
James Reed, consultant forensic psychiatrist and chair of the Clinical Chief Information Officer (CCIO) network, gauged the opinion of the community and sent The Reg a statement of opinion on the meeting we exposed.
"There are clear benefits to be had from sharing clinical data between organisations both for direct care and for understanding population health. However, we have learned from similar initiatives of the past that it's very important to be open and transparent about it with the public," he said.
It is vital that the public realise who has access to their data and the purposes for its use, he added.
"Maintaining public trust in these schemes is vital and it's hard to do this when meetings are happening apparently behind closed doors. All round the country, there are strenuous efforts being made to do so in local data sharing projects. Whilst it is clearly still early on, it would be very unfortunate if efforts were not made to engage with these projects and even more so if the public's trust were lost as a result," Reed continued.
What is it?
The repository will draw real-time data from GPs, hospitals, mental health professionals, death and demographics registers, the private sector, prescription records, environmental and social stats, and data flows from embedded devices and patient-supplied and -entered details.
The information, including medical and genetic records that are said to be anonymised as necessary, will be accessed by NHS practitioners, along with researchers and possibly private companies. The objective is to make the UK a world beater in finding cures to beat diseases and provide better healthcare overall.
The NHS data on 65 million Brits was said at the meeting to be worth £9.6bn a year through "operational savings, improved patient outcomes and economic benefits," based on research by EY.
At the meeting, the NHS outlined nine frameworks models to be considered that ranged in benefits from a medical and financial perspective.
Joe McDonald, CCIO for Great North Care Record, a body that covers the sharing of data with healthcare pros for 3.6 million people situated in the North East and North Cumbria regions, said it ran 25 workshops for local citizens.
"The public told us transparency and trust are key issues in sharing sensitive health information. We have to be guided by citizens, not by government agencies and industry big players who see to profit from NHS data," he told The Reg.
"We hope the lessons of Care.Data have been learned. I'm not sure what patient representation goes into current policy thinking. I suspect not enough," he added.
Campaign group MedConfidential – the clue to its aims is in the name – warned several weeks ago in our original article that in the government's "rush to capitalise" on "one of the most valuable data assets on the planet" – NHS data – the powers that be seem more keen to "attract investment, serve industry and promote trade" than tell the subjects of that data what their plans for it are.
The Register has asked NHS England and the British Medical Journal to comment. ®
Sponsored: Beyond the Data Frontier
[from https://ift.tt/2m5N8uC]