With millions of regular visitors, file-hosting site Openload generates more traffic than popular streaming services such as Hulu or HBO Go.
While the site has plenty of legal uses it is also a thorn in the side of many copyright holders, due to the frequent appearance of pirated content.
This pirate stigma most recently resulted in a mention on the US Government's list of "Notorious Markets".
Today the site's regular users are welcomed with a rather unpleasant surprise. Instead of the usual interface, allowing them to access the latest videos, they see a message from the global anti-piracy alliance ACE.
"The website is no longer available due to copyright infringement. You will be redirected to alliance4creativity.com," it reads.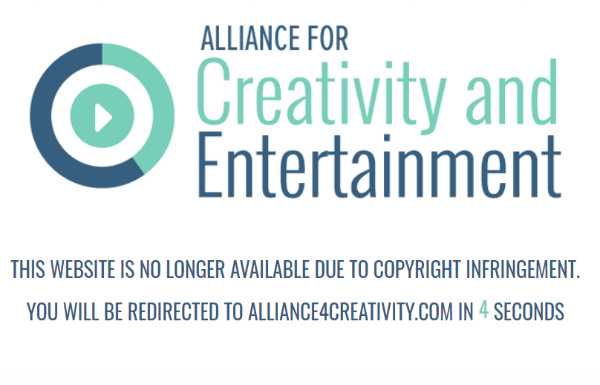 A closer look at the DNS information shows that the domain name now points to the ns3.films.org and ns4.films.org nameservers, which have been used in the past for similar seizures.
Whether the 'takeover' is limited to just the domains or whether any additional property has also been seized is unknown at the moment. TorrentFreak reached out to ACE to confirm or deny their involvement along with a request for additional detail, but the Alliance didn't immediately reply.
It appears, however, that Openload.co, and many related Openload domains such as oload.cc, oload.club and oload.download, openload.pw and oloadcdn.net are not the only affected domains.
Streamango.com and Streamcherry.com, which are believed to be connected to Openload, both show the same ACE copyright notice.
With millions of daily visitors, the redirects are causing trouble for the ACE website too, which is slowing down and returning errors regularly. This is no surprise, as Openload.co alone has an estimated 65 million visits per month, according to SimilarWeb.
Without official confirmation, there is always a possibility that the domain redirects are the result of a hostile takeover or elaborate prank, but thus far all signs point towards ACE being behind the development.
This is a breaking story, we will add or update the article if and when new information becomes available.
Source: TF, for the latest info on copyright, file-sharing, torrent sites and more. We also have VPN reviews, discounts, offers and coupons.
[from https://ift.tt/148uEe4]