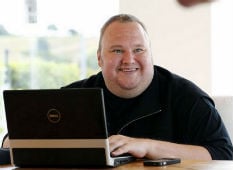 Way back in 2012, Kim Dotcom's cloud storage site Megaupload was shut down in a massively blaze of publicity. Ever since, Dotcom and several of his former colleagues have been fighting extradition to the United States.
Dotcom's strategy in New Zealand has been to challenge all aspects of the case against him, something that has seen him burn through tens of millions of dollars in legal fees. He has sought every piece of available information to assist his defense, but that hasn't always gone his way.
In 2015, Dotcom asked dozens of ministers and multiple government departments to disclose information they held on him. With Dotcom's case rolling on, his requests were classified by his team as "urgent". However, then-Attorney General Chris Finlayson denied the requests, describing them as vexatious and baseless.
Ever persistent, Dotcom filed a complaint with the Human Rights Tribunal, accusing the New Zealand Government of wrongfully withholding information from him.
Last March the Tribunal ruled in Dotcom's favor, noting that the Crown was "in clear breach of its obligations under the Privacy Act" when it withheld the information. Dotcom was awarded NZ$60,000 in damages for "loss of dignity or injury to feelings" plus NZ$30,000 to compensate for the information not being handed over.
Dotcom was quick to celebrate, noting that the ruling from the Tribunal meant that his extradition case was effectively over, with the Attorney General having "perverted the course of Justice."
While an end to the extradition process is still not in sight, the ruling from the Tribunal also compelled the authorities to comply with Dotcom's original request. But with that still yet to happen, the show isn't over yet.
The Crown subsequently appealed the decision of the Tribunal and yesterday the matter went before the High Court in Wellington.
Lawyer Victoria Casey, representing the Attorney General, said there was no evidence that the information was wrongly disclosed to cause injury to Dotcom's feelings (as the NZ$60,000 award suggests) and there was no evidential basis for Dotcom to be awarded the NZ$30,000 either, RadioNZ reports.
Casey also argued that while Dotcom's 52 requests to 28 ministers and government departments were marked as urgent due to his ongoing extradition battle, the information could not have been used because the window for submitting evidence had already closed. It was also a sizeable request, that could not have been fulfilled quickly, the lawyer said.
These factors meant that the allegedly unwieldy request for disclosure was considered vexatious by the then-Attorney General.
In Court yesterday, Casey said that Dotcom had demanded "every record mentioning him by name held by every government agency and every then-government minister, plus each agency contracted to work with any of those entities."
Four days have been set aside for the hearing.
A copy of the original Human Rights Tribunal ruling is available here (pdf).
Source: TF, for the latest info on copyright, file-sharing, torrent sites and more. We also have VPN reviews, discounts, offers and coupons.
[from https://ift.tt/148uEe4]