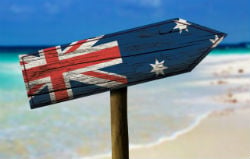 For the past several years, entertainment industry companies have been utilizing legislation in Australia that allows for the blocking of 'pirate' sites.
Movie studios, TV companies and record labels have all taking advantage of the process, filing applications with the Federal Court to have obviously infringing sites blocked by ISPs, to reduce the number of subscribers accessing the platforms from within Australia.
The overwhelming majority of applications have contained no obvious major issues, with rightsholders demanding that popular torrent, streaming and similar platforms should be rendered inaccessible by direct means. However, an application filed in the summer raised questions over a pair of domains that at best seemed outliers in the original 78-site list.
Application for Injunction Filed in July 2020
The application, filed by companies including Disney, Netflix, Village Roadshow, and Warner Bros., requested an injunction that would compel around 50 ISPs including Telstra, Optus, TPG and Vodafone to block access to more than 100 domains. Many well-known platforms including 0gomovies.org, 1377x.to, best-series.me, pirateproxy.wtf, warez-bb.org, kissasian.sh, and bs.to, were included in the list but two in particular caught our eye.
Aparat is often referred to as Iran's YouTube. It is one of the most-visited sites in the world and the second most-visited site in Iran, where only Google.com gets more traffic. Like many user-uploaded content sites (YouTube included), it has its fair share of copyright infringement issues but the claim from the applicants, that the site's "primary purpose or effect" is to infringe or facilitate the infringement of copyright, seemed a bit of a stretch.
At the time, TorrentFreak reached out to Aparat for a comment on the inclusion of its domain on the list. We also approached the attorney for the movie companies but neither responded. Interestingly, however, at some Aparat was removed from the application but given the lack of documentation at the courts, the precise reason remains unknown.
Another unusual entry in the original application was the domain of Israeli newspaper Kul al-Arab. Founded in 1987 and published on a weekly basis, the paper is said to be Israel's most influential and widely read Arabic-language periodical. While that may be its main area of business, however, the site also has a VOD section, something which may have triggered the complaint process. Nevertheless, like Aparat, Kul al-Arab was also removed from the application at some point.
Injunction Handed Down By The Federal Court
After adjustments (two other platforms have also been removed, possibly due to inactivity), the final injunction handed down by Justice Steven Rares now targets 74 allegedly infringing platforms (four less than the original application) accessible via 112 domains, all of which must be blocked by the respondent ISPs which together cover most of the Australian market.
Notable inclusions are domains operated by torrent site variants 1337x and 1377x, torrent index TorrentGalaxy, various Pirate Bay proxy sites, domains connected to infamous Indian torrent site Tamilrockers, warez portal Warez-bb, YouTube-ripping platform Y2Mate, TV show platforms BS.to and S.to, plus several rising anime sites. (Full list below)
"I am satisfied that the owners have taken all reasonable steps to notify each person who operates the targeted sites," writes Justice Rares in the order.
"The owners' solicitors sought to provide the respective site operators with notice of this proceeding and the relief sought against the site operators through communication to email address, postal address (where it could be found), or the online 'contact us' facility offered by the sites. Some of the targeted sites do not appear to offer any facility for receiving such contact. Others gave perfunctory acknowledgments."
The Judge notes that, in his opinion, an order requiring the ISPs to block the sites represents a "proportionate response to the scale and flagrancy of infringing conduct in the circumstances." Acknowledging that the blocking will negatively affect the pirate sites' business models, Justice Rares adds that the interference the judgment will cause is necessary to protect the applicants' rights.
"Moreover, I consider that it is in the public interest to disable access to each targeted site. That is because the sites seek to undermine the lawful rights of the owners and others to the protection of their intellectual property," he concludes.
The full judgment published October 15, 2020 can be found here
Full list of blocked sites/domains:
1. 0goMovies (0gomovies.org / 2gomovies.net)
2. 123putlocker (123putlocker.to / 123putlocker.is)
3. 1337x torrent (1337xtorrent.net / 1337x.am)
4. 1337x.am (1337x.am)
5. 1377x.to (1337xto.to / 1377x.is / 1377x.to)
6. 91mjw (91mjw.com)
7. alarab.com (not blocked, removed from application/injunction)
8. aparat.com (not blocked, removed from application/injunction)
9. azm (azm.to)
10. best-series (best-series.me)
11. Cmovies (cmovies.ws / c-movies.cc)
12. europix.pro (europix.biz / europix.pro)
13. europixhd (europixhd.io / europixhd.net / europixhd.pro)
14. Fshare TV (fsharetv.co)
15. halimthemes (123moviesoknow.com / all123movies.com / ww2.123moviesoknow.com)
16. iyingshi6 (iyingshi6.tv)
17. limetorrents2020 (limetorrents.buzz / limetorrents2020.xyz)
18. mlcboard (mlcboard.com)
19. Movie INDOXXI (movieindoxxi.me / ligaxxi.me)
20. movies123 (movies123.ag / movies123.sc)
21. movies123.design (movies123.design)
22. movies123.email (movies123.email)
23. movies123.pics (movies123.pics)
24. movies123.sh (movies123.sh)
25. movies123.work (movies123.work)
26. mybinoo (imybinoo.org)
27. Myflixer (myflixer.com / myflixer.to)
28. Noxx (noxx.to)
29. ololo (ololo.to)
30. piratebay-proxylist (piratebay-proxylist.net / piratebay-proxylist.se)
31. pirateproxy (pirateproxy.wtf)
32. poku.tv (not blocked, removed from application/injunction)
33. Project Free TV (projectfreetv.fun)
34. putlockers.bz (putlockers.bz)
35. putlockers.date (putlockers.date)
36. rezka (rezka.ag)
37. soap2day (soap2day.com, .im, .is, .se, .to, .org)
38. sockshare.ag (sockshare.ag)
39. tamilrockers.ws (tamilrockers.com / tamilrockers.ws)
40. Tinyzone (tinyzone.tv / tinyzonetv.to)
41. torrentgalaxy (torrentgalaxy.to)
42. tvhay (tvhay.org)
43. unblockit (unblockit.top, .bid, .biz, .one, .red)
44. Vidcloud (vidcloud9.com)
45. warez-bb (warez-bb.org)
46. Watch Series (mywatchseries.stream)
47. watchonlinemovies (moviesonline.com.pk / moviesonlinewatch.com.pk / movieswatch.com.pk / watchmovies7.com.pk)
48. watchseries.net (watchseries.net)
49. watchseriesHD (watchserieshd.co)
50. watch-seriesHD (watch-serieshd.cc)
51. watchserieshd.tv (watchserieshd.tv)
52. world4ufree (world4ufree.top, .work, .blue, .casa, .host, .icu, .life, .surf)
53. x1337x.eu (x1337x.eu)
54. Y2mate.com (Y2mate.com)
55. Y80s.com (Y80s.com)
56. yifytorrent.pro (yifytorrent.pro)
57. Bs (bs.to)
58. S (s.to)
59. AnimeKisa (animekisa.tv)
60. Anime4You (anime4you.one)
61. Animeram (animeram.cc)
62. 123anime (123anime.cc)
63. Animeflix (Animeflix.to)
64. 4anime (4anime.to)
65. Darkanime Stream (app.darkanime.stream)
66. AnimePill (animepill.com)
67. Anime Simple (animesimple.com)
68. AnimeSim (not blocked, removed from application/injunction)
69. AniMixPlay (animixplay.com)
70. 14tv (14tv.com)
71. Bestdrama (destdrama.net)
72. Dramanice (dramanice.movie / dramanice.site)
73. haitum.com (haitum.com)
74. Have8 (have8.tv)
75. Hktvdrama (Hktvdrama.com)
76. Kissasian (kissasian.sh, .ch)
77. loldytt (loldytt.com)
78. newasiantv (newasiantv.tv)
From: TF, for the latest news on copyright battles, piracy and more.
[from https://ift.tt/148uEe4]