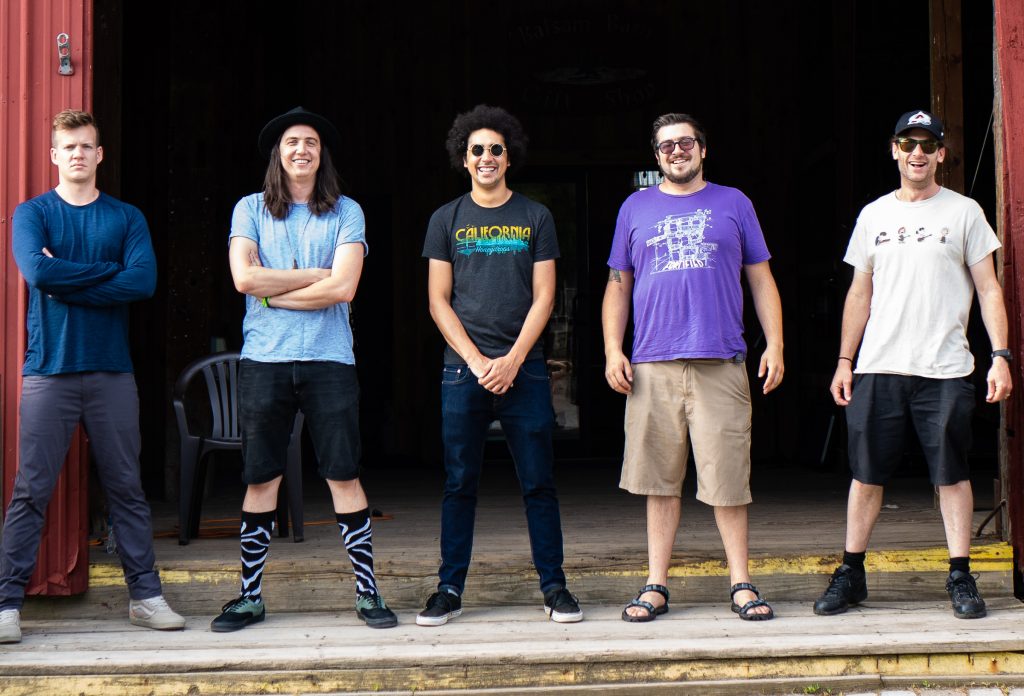 The Magic Beanstalk: Jam Band Will Convert A Drive-in Movie Theater Into A Socially Distanced Music Festival
Unique times call for unique solutions, and as socially distant entertainment becomes the standard, bands and artists are learning how to adapt. In this piece, we learn how one Denver-based jam band is able to turn a drive-in movie theater into a socially distanced music festival.
Guest post by Rudi Greenberg of the Eventbrite Blog
Scott Hachey, guitarist for the Denver-based jam band The Magic Beans, has played in scenic festival fields full of dancing fans, sweaty clubs at max capacity, and, more recently, his living room for a virtual audience he couldn't see. But there's one venue that his band has yet to use as a stage: a drive-in movie theater.
"I've never played for a bunch of cars," Hachey says.
But since Hachey plays in a jam band, he's used to improvising. It became clear in recent weeks that, due to the COVID-19 pandemic, he wouldn't be able to throw his band's eighth annual Beanstalk Music & Mountains Festival in Rancho Del Rio, CO, as planned. So Hachey, his bandmates, and festival co-organizer Ryan Noel started brainstorming alternatives, including something that seemed crazy at the time: staging it at a drive-in theater.
"Then we saw that article going around about how drive-in concerts had started in Europe," Hachey says. "And then electronic musician Marc Rebillet announced his drive-in tour. That's when we were like, we're actually going to do this. It was born out of necessity. Me and Ryan are never say die promoters. We put a lot of work into Beanstalk — it's our only event of the year — so we put all our energy into trying to make something happen."
They quickly formulated a plan and started contacting drive-in theaters in Colorado that were operating during the pandemic. The Holiday Twin Drive-In in Fort Collins had been safely screening sold-out movies for several weeks, had staged a beer festival on-site in the past, and quickly agreed to hold a scaled-down, two-day version of the festival, rebranded as Beanstalk: At the Drive-In!, on June 26 and 27.
"We put it all together in three days," Hachey says. "We're hoping we don't change the [drive-in's] paradigm too much. We're just gonna throw in some music and maybe a little bit of a younger, wilder crowd."
For fans used to attending Beanstalk and other summer music festivals, this paradigm will inherently be different. For one, there will be no camping. There also won't be music coming from the stage.
The lineup of mostly Colorado-based bands — The Magic Beans, Cycles, Great Salmon Famine, Envy Alo, and Montana's Kitchen Dwellers — will play on a makeshift stage in front of the drive-in's massive screen but they won't use speakers or a PA to pump out the jams. Instead, fans will listen live via their car's FM stereos, or on headphones and bluetooth speakers through a hi-fi audio simulcast on the Mixlr app, while pro-shot video of the stage screens above.
"I have a feeling that there'll be some kind of a general PA vibe," Hachey says, with each car broadcasting the music in a communal way.
Fans who have been starved of live music for the past couple of months clearly have an appetite for its return: tickets sold-out hours after last week's announcement. That's partly because those who bought a ticket on Eventbrite to the original festival automatically have one for the drive-in festival.
Capacity is limited to 380 cars and three people per vehicle — a total of nearly 1,200 people, similar to the original festival. Hachey says more tickets will likely become available in the coming weeks as fans who can't make the drive-in festival request refunds for the original event. (Beanstalk and The Magic Beans will post updates to social media as tickets become available.) Working with Eventbrite has made moving ticket holders from the original festival to the drive-in event easy, Hachey says.
"It's been very helpful," Hachey says of the platform. "We're EB for life. It made it really easy, which is key because we're independent. We think of EB as our ticketing hook."
The festival and the drive-in are taking social distancing seriously: cars will be parked in every other space, so there's room between them, and fans will be permitted to set up chairs or blankets and hang out outside of their car, but only if they stay adjacent to it. They cannot roam freely unless they need to go to the bathroom or pick up concessions. Patrons can also bring in outside food but not alcohol. When they want to order drinks or food, they'll have to do so online and will be notified via text when their order is ready.
Face masks will be strongly encouraged but not required, unless the state or local government mandates them. Security will be roaming the venue and will be prepared to eject those who don't comply with social distancing mandates.
"We're going to come in and we're going to put down chalk lines to extra reinforce where you're not supposed to leave," Hachey says. "We're making sure that bands are coming with their crew. So the only people interacting on stage with them are going to be their crew and the band members."
Hachey hopes people will still feel transported to that summer festival vibe, even if it's a very different setting and circumstance. It helps that the drive-in has a view of the mountains and the nearby Horsetooth Reservoir. "It's very scenic," he says. "It's a pretty sweet location, which is key for us because we really wanted there to be an outdoor vibe."
But he cautions that this isn't going to be the same kind of freewheeling experience veterans of previous Beanstalks are accustomed to.
"This is completely new territory," he says. "Don't come expecting the same experience, but come expecting a good one."
After two months of livestreaming improv-heavy concerts online, Hachey and the Magic Beans can't wait to get back onstage in front of an actual audience — even if it's a bunch of cars. The band is even plotting some venue-appropriate treats for fans, like possibly covering Gary Numan's hit "Cars," or playing a series of songs featured in classic movies.
"Everyone's gonna be giddy," he says. "All the bands are already giddy, the patrons are giddy — the energy is gonna be palpable. I really have no idea what to expect. But our keyboardist brought up a funny thing where he was like, 'Are people gonna honk in between each song instead of clapping?' "
Rudi Greenberg is a content editor at Eventbrite with a passion for covering music, comedy, and events. His writing has appeared in The Washington Post, Relix magazine, U.S. News & World Report, and DCist.
Share on:
[from https://ift.tt/2q5EXmO]