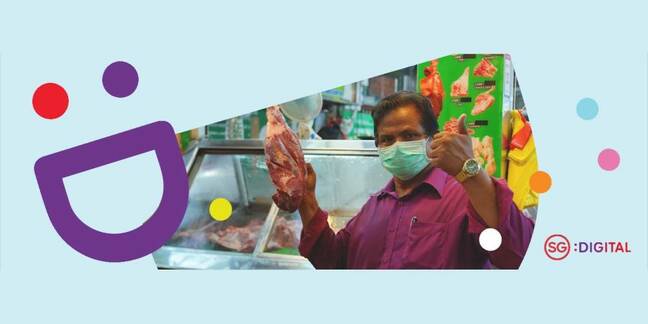 An SG Digital Office promo encouraging hawker markets to adopt e-payments
Singapore has crated a new "SG Digital Office" to "drive the Government's initiatives to accelerate digital adoption in our community, as we embark on a phased recovery post COVID-19."
Minister for communications and information Mr S Iswaran said the new agency is needed because the COVID-19 pandemic "has irrevocably changed the way we lead our lives" but not all Singaporeans have been able to use digital technology to cope.
"The Government recognises that in the wake of COVID-19, digitalisation is now both an imperative and an opportunity. Digitalisation can significantly improve the lives and livelihoods of our people. We are therefore seizing the moment, by establishing the new SG Digital Office and doubling down on our efforts to help every individual, worker and business go digital," the minister said.
The new agency has been given three jobs for starters: recruit 1,000 "Digital Ambassadors"; have them conduct sessions to teach seniors how to adopt digital technologies, and; getting small retailers to adopt electronic payments.
The Ambassadors will start by visiting 112 hawker markets [Essentially outdoor food courts, but with much better food – Ed] and 18,000 other venues to encourage them to adopt SGQR codes, a government-operated aggregator of other e-payment systems.
The e-payment acceleration effort also targets wet markets, coffee shops and industrial canteens and aims to help them "avoid having to handle cash." Doing so has not been explicitly linked to virus control, but instead pitched as a measure to ensure small retailers "should not be left behind as the whole economy transforms."
The new agency will move fast: the ambassadors are expected to be in place during June 2020 and to have visited all 112 hawker markets in the same month. 18,000 retailers are due to be using e—payments by June 2021. The agency also has a target to visit 100,000 seniors by March 2021, well beyond the current annual target of 10,000 one-to-one education sessions with seniors.
Singapore's initial response to COVID-19 was hailed as a success, but a wave of infection in dormitories inhabited mostly by migrant workers saw the nation adopt a new round of "circuit-breaker" precautions that will start to lift this week. ®
Sponsored: Ransomware has gone nuclear
[from https://ift.tt/2m5N8uC]