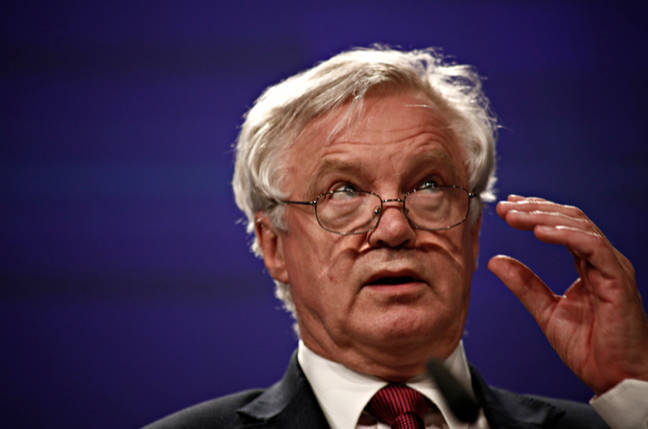 Ex-Cabinet minister David Davis has called for former Autonomy exec Mike Lynch's potential US extradition to be halted – at least until judgment in the lengthy UK civil case brought against him by HPE.
Lynch and HPE have also spent £40m on his civil legal defence in the High Court, the MP for Haltemprice and Howden told Parliament.
Describing the current UK-US Extradition Treaty of 2003 as a "truly dreadful deal" in Parliament earlier today, Davis – currently the highest-achieving compsci graduate in Parliament – condemned what he said was the US authorities' "attempt… to exercise extraterritorial jurisdiction."
"In the US, mandatory sentencing means that it is the prosecutor who determines the sentence, not the judge, which allows the prosecutors to operate a sort of judicial blackmail," warned Davis.
As chronicled in full detail here on El Reg, Mike Lynch was the founding CEO of Autonomy plc, a Cambridge-headquartered software business. After selling Autonomy to Hewlett-Packard in 2011 for $11bn, he was sued for £3.3bn by HP after it wrote down Autonomy's value by $8bn amid claims Lynch had fraudulently overstated its value.
Not content with UK civil court claims, HP (now Hewlett Packard Enterprise; HPE) also convinced the US Department of Justice to pursue Lynch with criminal charges. American prosecutors have filed an extradition request so they can put Lynch on trial in the US.
Davis told the House of Commons this afternoon that if HPE "fail to win their civil trial against Dr Lynch here in the UK… it is inconceivable that the US authorities would win a near-identical criminal case if it was fairly tried. Accordingly, the case for extradition would evaporate."
Davis compared Lynch's case to that of Anne Sacoolas, the American spy's spouse who killed a British motorcyclist by driving on the wrong side of the road after leaving spy base RAF Menwith Hill. The US has so far refused to extradite Sacoolas back to the UK for trial on charges of causing death by dangerous driving, having spirited her out of Britain to help her evade justice.
"Dr Lynch," thundered the MP, "is being charged with several counts of wire fraud – an offence originally designed to make a state crime into a federal crime so they could be prosecuted by federal authorities. Its application quickly expanded, prompting one federal judge to say they have 'been invoked to impose criminal penalties upon a staggeringly broad swathe of behaviour'."
Notable UK-US extradition cases include that of accused hacker Gary McKinnon, another accused hacker Lauri Love (who managed to not be extradited) and WikiLeaks chief Julian Assange.
Davis also called for British extradition law "to change to exactly mirror the American law, something they can't possibly complain about". Whereas the UK law says the Home Secretary "must" extradite on request from the US, the American version merely says its ministers "may" decide to extradite.
Kit Malthouse MP, a junior Home Office minister, replied to Davis' speech on behalf of the government by saying: "I am unable to confirm or deny the existence of any extradition case."
Malthouse added that the US has "never refused" to extradite (with the exception of Sacoolas, as above) and that "our courts, rightly, are active at ensuring the interest of justice are defended", saying: "I know [Davis] has met with the Home Secretary to raise his concerns in general and specific and we welcome his constant attention to our liberties, something to which we must always pay due care."
So far there have been no public moves to get Lynch legally bundled onto a flight bound for the US. The process is a public one heard in public courts, meaning your favourite tech news outlet will be there to inform world+dog once it gets going. ®
Sponsored: Detecting cyber attacks as a small to medium business
[from https://ift.tt/2m5N8uC]