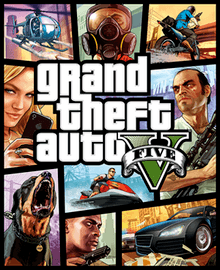 Over the past year there has been a wave of copyright infringement lawsuits against alleged cheaters or cheat makers.
Take-Two Interactive Software, the company behind 'Grand Theft Auto V' (GTA V), is one of the major players involved. The company has filed several lawsuits in the US and abroad, targeting alleged cheaters.
In August the company filed a case against Florida resident Jhonny Perez, accusing him of copyright infringement by creating and distributing a cheating tool. The software, known as "Elusive," could be used to cheat and grief, interfering with the gameplay of others.
"In essence, Defendant is free riding on TakeTwo's intellectual property to sell a commercial product that interferes with the carefully orchestrated and balanced gameplay that Take-Two created for its players," Take-Two notes in the court filing this week.
The defendant has a clear profit motive, according to the company, which notes that "Elusive" was sold at prices ranging from $10 to $30, depending on the package. Buyers could pay through PayPal, but Steam and Amazon gift cards were also accepted.
How much money was made in the process remains unknown. Prior to filing the lawsuit, Take-Two requested detailed financial records from Perez in an attempt to reach a settlement. However, the defendant didn't hand over the requested information and eventually stopped responding.
This lack of response continued after the lawsuit was filed, which prompted Take-Two to move for a default judgment. According to the company, it's clear that the cheat maker is guilty of both direct and contributory copyright infringement.
Take-Two submitted its proposed default judgment to a New York federal court this week, asking for the maximum statutory damages amount of $150,000.
Among other things, Take-Two says this is warranted because the cheating activity resulted in severe losses. According to an estimate provided by the company, the harm is at least $500,000. In addition, the maximum in damages should also act as a deterrent against other cheat developers.
"A maximum award would deter Defendant and other infringers from creating similar cheating tools that modify and alter GTAV," the company argues.
"Indeed, Defendant is not alone in his effort to create, distribute, and maintain a program that alters and modifies Take Two's game, which is then sold to users for profit. Take-Two already has been forced to bring several lawsuits in the United States and around the world against other infringers."
On top of the $150,000 in damages, Take-Two also requests $69,686 in attorney's fees, as well a permanent injunction prohibiting the defendant from continuing infringing activities moving forward.
Take-Two's conclusion
As far as we know, Elusive hasn't been available since earlier this year when the developer informed the public that activities were being discontinued.
"After discussions with Take-Two Interactive, we are immediately ceasing all maintenance, development, and distribution of our cheat menu services," a public announcement read at the time.
"We will also be donating our proceeds to a charity designated by Take-Two. We apologize for any and all problems our software has caused to the Grand Theft Auto Online community," it added.
That said, Take-Two has experience with developers who say one thing and do another, so the company would like to see details cemented in a court order. Given that the defendant has not responded in court, it is likely that the court will side with the gaming company.
—
Here are copies of Take-Two's memorandum (pdf) and the proposed order (pdf), obtained by TorrentFreak.
Source: TF, for the latest info on copyright, file-sharing, torrent sites and more. We also have VPN reviews, discounts, offers and coupons.
[from https://ift.tt/148uEe4]