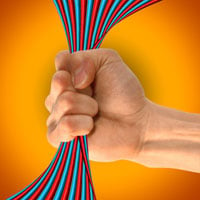 For many years the Irish Recorded Music Association (IRMA) has been trying to reduce piracy levels in Ireland. Their most visible target has been those who share their members' content on file-sharing networks such as BitTorrent.
At the turn of the last decade the labels, including Sony, Universal, and Warner, ended legal action against local ISP Eircom after the provider agreed to implement a so-called "three strikes" regime against peer-to-peer pirates.
The agreement saw the labels tracking infringers online and presenting notices of infringement to Eircom. The ISP forwards these notices to allegedly infringing subscribers, with those caught pirating for a third time becoming eligible for disconnection from the Internet.
Acknowledging that this could put Eircom at a commercial disadvantage, the labels targeted another ISP, UPC (later taken over by Virgin), with a request to implement the same system. UPC refused and the case went to court.
In 2015, the High Court ruled in the labels' favor, rejecting UPC's complaints that it should not have to police subscribers' online activities. Back in July, Sony, Warner and Universal returned with similar demands, this time targeting Sky Ireland.
While Eircom and UPC initially dug in their heels, Sky turned out to be a different animal. A content provider itself, Sky indicated that it would comply with the labels' request, but only if they first obtained a court order.
"Copyright holders who believe broadband users have unlawfully shared content online have the option of taking their cases to court. If the order is granted, the service provider must comply and Sky would, of course, comply with any such order," the ISP said.
In response, the labels (under the Irish Recorded Music Association umbrella) initiated a claim in the High Court. Just a few short months later, that case is now over and settled in favor of the labels after Sky streamlined the process.
Jonathan Newman SC, representing the labels, told the Commercial Court that Sky had written to the record companies indicating that it would implement a "graduated response" scheme as required and would therefore not be attending Court.
According to Irish Examiner, Newman said that the "three strikes" regime was proving effective at the other ISPs, with subscribers ending their illegal activity after receiving a second cease-and-desist notice.
While the first two warnings are for informational purposes and to act as a deterrent, subscribers receiving a third notice have their personal details handed to the record labels, who then have the option of taking a case to court to have the accounts of repeat infringers terminated.
Mr Justice Robert Haughton said "the big stick does the job", indicating the loss of anonymity and the threat of legal action was enough to stop infringers in their tracks.
While no statistics have been made publicly available to indicate whether any users receive three or more warnings, not a single user has had their Internet account terminated since Eircom agreed to implement a similar scheme nine years ago.
Source: TF, for the latest info on copyright, file-sharing, torrent sites and more. We also have VPN reviews, discounts, offers and coupons.
[from https://ift.tt/148uEe4]