Australia's communications minister Mitch Fifield has hinted at further regulation of the internet, in a speech delivered last night to the Sydney Institute.
This time around, the minister is looking at news publications and platforms, the subjects of an ongoing Australian Competition and Consumer Commission review launched in December 2017.
The ACCC was tasked to review "the impact of digital platforms on the supply of news and journalistic content and the implications of this for media content creators, advertisers and consumers."
Fifield said that review will guide how the government addresses misuse of personal data, "fake news", and disruption of traditional media outlets.
He told the think-tank audience the government's preference will be to avoid regulation where possible: "We will seek to regulate only when necessary. But we will make further interventions where significant problems exist."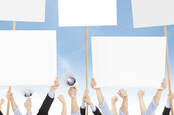 What do Zuck, Sergey, @Jack and Bezos have in common? They don't want encryption broken
READ MORE
One of those significant problems, Fifield said, is the way algorithms can create "echo chambers and filter bubbles" (he did not, however, offer any insight into how the algorithms deployed by Silicon Valley giants could be regulated from Australia).
The minister's thinking on personal data was clearer, with him telling the audience: "Australians should be able to control their online footprints and their personal data."
When Australians lose control of their data, or when they can't have "trust and confidence" in new sources, "we will look at the range of options available to support them."
Fifield is also concerned that the market dominance of platforms like Facebook and Google could undermine the market dominance traditionally enjoyed by Rupert Murchod's News Corp reduce Australians' diversity of media sources.
"There are few examples in history where the dominance of single firms has been positive for society", he said.
He also vaguely hinted at government concerns about "offensive or harmful content", but didn't offer a firm proposal for what the government might do.
He also said the days when the Internet regarded itself as "separate to the physical world" are over.
More criticism for crypto-busting bill
The government has previously criticised those who see the Internet as "special" in promoting legislation to let law enforcement access encrypted communication.
Local Internet Society chapter Internet Australia yesterday published an open letter (PDF) to home affairs minister Peter Dutton warning that the crypto laws will harm Australian tech exports, estimated to be worth more than AU$3 billion.
The letter said the laws would expose Australian companies to the same criticism Australia has levelled against Chinese firms Huawei and ZTE, since they would be "viewed by international markets as subject to the very same concerns around undisclosed surveillance and surreptitious bypassing of security and privacy functions at the request or direction of the Australian government."
Those suspicions would arise, Internet Australia chair Dr Paul Brooks wrote, by virtue of the existence of the legislation, even if it was never used.
The open letter also criticises the government for its drip-feed publication of submissions to the parliamentary committee overseeing the legislation, cites international criticism of the proposed legislation, and emphasises that the crypto-busting laws are a violation of human rights.
Brooks added that the government's consultation period is too short for the Parliamentary Joint Committee into Intelligence and Security to properly assess the bill, and that holding just one day of public hearings is "extremely short-sighted and, in our view, ill-advised." ®
[from https://ift.tt/2m5N8uC]