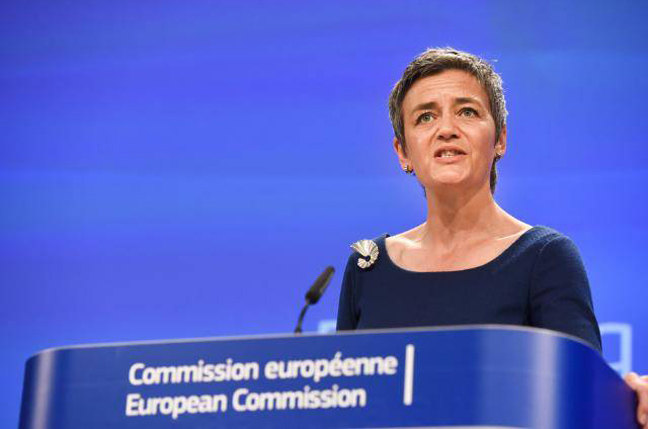 The European Commission is asking whether Amazon's role as a platform that merchants can use to sell products and its role as the merchants' competitor raises antitrust concerns.
Commissioner Margrethe Vestager acknowledged the investigation during a press conference discussing Luxembourg's non-taxation of McDonald's profits.
In a video posted by the European Commission, she emphasised that the investigation is in its very earliest stages.
The commission has sent questionnaires to players to get their input, she said, but her office has not yet launched any formal action.
She said people "have been asking increasingly" about "dual purpose" platforms like Amazon, who act both as host and competitor.
"They're hosting a lot of merchants … and at the same time, they themselves are merchants, big merchants."
Providing services to other merchants puts Amazon in a position to see a lot of data coming from those merchants.
That can be entirely legitimate, since Amazon can use that data to improve the services it provides merchants – but her concern is that it could also misuse that data.
"Do you then use this data to do your own calculations? What is the new big thing? What is it that people want? What kind of offers do they want to receive?"
As Heise.de noted, Amazon brands command 46 per cent of Germany's online sales, giving it a lot of data to exploit analyse to improve services to its customers.
In the UK, Global Data pegged Amazon as the fifth largest retailer accounting for £4 in every £100 spent. It is forecast to hold 17.4 per cent of online spending by 2023.
Amazon is already on Vestager's speed-dial list, with the commission last year telling the tat-store-and-cloud giant to refund $294m in tax breaks it received from Luxembourg.
That decision has been taken off to the European Court of Justice.
It must, however, be galling for Jeff Bezos that the tax deal the Golden Arches burger-flingers cut with Luxembourg has been cleared of being "illegal state aid" – precisely the opposite of its decision in the Amazon case. ®
[from https://ift.tt/2m5N8uC]