HMRC execs have set out a series of risks to the development of its new customs IT system, including ensuring that supplier IBM delivers on time and a possible £70m shortfall in funding this year alone.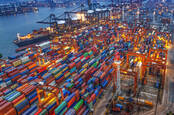 UK taxman warned it's running out of time to deliver working customs IT system by Brexit
READ MORE
The department is replacing its outdated CHIEF (Customs Handling of Import and Export Freight) system with a new Customs Declaration System (CDS), but project is under increasing pressure thanks to the tight timeline imposed by Brexit.
The project is further complicated by the fact the department is having to prepare for a number of different scenarios – including a no-deal situation, for which bosses have admitted it would not be completely ready.
The Public Accounts Committee yesterday grilled HMRC's two permanent secretaries, Jim Harra and Jon Thompson, and CDS director Kevin Franklin on progress, following a report from the National Audit Office that raised concerns about the project.
Franklin said the system would be launched iteratively, with the first release, for imports, due on 14 August, followed by a further import release due in November, and one for exports in December. The latter appears the area of greatest concern.
Sticking to this tight deadline is clearly a worry for the execs; when asked what was keeping him up at night, Thompson pointed to relations with Customs Declaration System supplier IBM.
"A key dependency is on IBM, the core contractor," he said. "We need IBM to stick to the timetable they agreed, which is reflected in the timetable of the project."
Franklin said that there was "no doubt" that IBM was "doing their best" but also indicated some concerns of his own.
"We have found that they are finding some difficulty in closing the gaps between the core product and the things we want to do in the UK around some of the trade facilitation measures, particularly on export measures," he said.
He cautioned that "it would not help us to get into some contractural battle with IBM" but said the "levers we're pulling" required direct talks with Big Blue's subcontractors, including Intrasoft.
Meanwhile, Thompson noted that it "ultimately doesn't matter" if the January rollout of exports moves back if the department's contingency plan – which is to extend the life of CHIEF – is fully functional.
Whether this is achievable is an open question. The department has extended its contract with supplier Fujitsu by a year, to run until March 2020, but CHIEF is based on an ageing IDMSX database system and the challenge will be ensuring it can handle the increased number of transactions.
During the session, Franklin said Fujitsu had built the necessary upgrade to CHIEF and was now in testing to see if it can handle the extra 300 million transactions a year; the first results are due at the end of the month, with four more iterations to come before September.
The witnesses insisted that there was no evidence that CHIEF couldn't manage the increased workload. Harra added they had bought new infrastructure for the system, which would be moved into live service in autumn.
But it was not clear what can be done if, come September, the system doesn't have the performance required – and, as the MPs pointed out, it doesn't leave much room for slippage.
Already too late for hauliers
In addition to getting its own tech right, HMRC has to prepare traders and businesses that will use the systems – a process that is hampered by the fact the final deal has not yet been decided.
If the UK stays in the customs union, many businesses won't need to declare; in a no-deal situation they will, which would nearly double traders from 150,000 to 295,000 with no transition period.
This means it is hard to communicate with suppliers, and the department expects that many won't be ready for a March 2019 deadline.
Harra said traders would need to know what to do by autumn or winter this year, but noted that some deadlines had already passed.
"Already our view is that it's too late [for hauliers] to have these inventory systems [that will talk to HMRC's systems at the border] in place for March where they do not exist," he said.
"We would start on day one with a suboptimal system where we cannot link declarations with movements easily. We would have to manage that in a risk-based way, and implement improvements over time."
MPs slam HMRC's 'deeply worrying' lack of post-Brexit customs system
READ MORE
Similarly, political uncertainty is costing the taxpayer money – Thompson revealed that if the department planned for everything ministers had asked, the project would face a £70m shortfall this year alone. It already has a £260m budget from the Brexit fund for 2018-19.
The committee also questioned the costs to traders and suppliers of implementing the system, which the execs estimated as being in the region of £17bn to £20bn each year for UK businesses – a burden expected to fall more heavily on SMEs that have to set up manual processes rather than those who can automate systems.
However, it wasn't all doom and gloom. The trio seemed more confident about having the staff in place to deal with the extra work needed to "hand-hold" traders through the new implementations, saying that they had recruited 1,113 new staff and had 1,570 offers of employment out. Thompson said the aim was to bring on between 4,000 and 5,000 new employees in total.
The hearing was part of a new inquiry into the progress of CDS. ®
Sponsored: Minds Mastering Machines - Call for papers now open
[from https://ift.tt/2m5N8uC]