Wikipedia is appealing to its users to swing a knife-edge vote in the European Parliament – even though the crowdsourced encyclopaedia itself won a specific exemption from the legal changes the EU has proposed (PDF).
As European Parliament's legal affairs committee mulls over votes to tweak the EU Directive on Copyright in the Digital Single Market, the site has also "gone dark" in Italy. Globally it's the fifth most popular site in the world.
In a statement, Wikimedia Foundation's general counsel Eileen B Hershenov acknowledged the exemption (without providing details) but said the climate is hostile – so people should complain.

Click to enlarge
"Although Wikimedia operates non-commercial websites, which may benefit from exemptions in certain parts of the EU copyright package, our overarching mission is heavily dependent on a free and open internet ecosystem," she added.
Wikipedia also said the right to charge for snippets won by the newspaper industry* "will make it more difficult to access and share information about current events in the world, making it harder for Wikipedia contributors to find citations for articles online".
It offers to call an MEP and helpfully provides a script of things to say: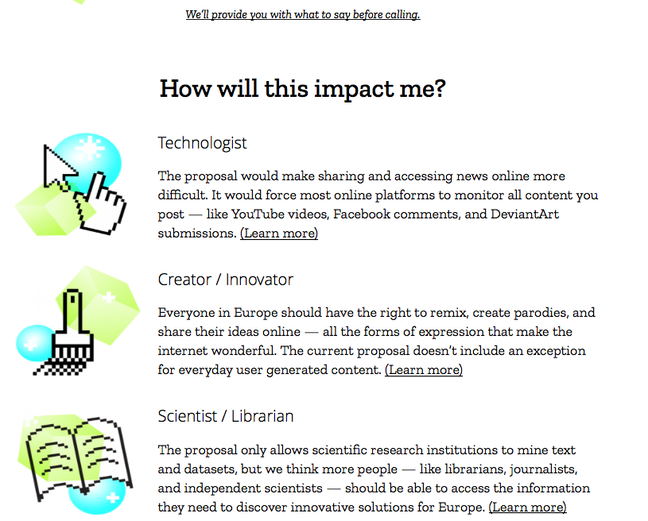 Click to enlarge
Supporters of the proposal, including European People's Party rapporteur Axel Voss, said the complaints are "fake news" – false and misleading.
Crispin Hunt, chair of composers and songwriters association BASCA, said he thought Wikipedia was misleading users and abusing its authority.
"This is a massive abuse of Wikipedia's audience and power. It's abusing every great principle it stands for in pursuit of [its] own ends. How can anyone ever believe them again?" Hunt told us today.
"Shame on Jimmy Wales," he tweeted.
Sticks and carrots
The long-running saga to modernise European copyright law for the EU's Digital Single Market culminates in a Parliament vote tomorrow. As part of a carrot 'n' stick package, rights-holders were asked to introduce measures such as media portability for easier cross-border access, make concessions on data mining and other formal exceptions, and allow heritage institutions to publish out-of-commerce works. In return, rights-holders won a four concessions in the EU Directive on Copyright in the Digital Single Market. Creators would win the right to better compensation after a contract had been signed – but the compensation for a successful work was "disproportionately low" – (tweaking Article 15) and a dispute mechanism (tweaking Article 16).
But the two carrots that affect Google's use of copyrighted material have raised particular concerns. Newspapers won a neighbouring right, to ask for royalties for snippets (tweaking Article 11) and the music industry to plug Google's "user-generated content (UGC) loophole" (Article 13) – which allows it to pay out much lower rates to songwriters through YouTube than Apple, Spotify or Deezer.
Although YouTube is the world's de facto music jukebox, the music sector gets less money from Google's 25 billion YouTube streams than it does from the puny annual sales of vinyl (4.1 million units, according to the record labels' association, the BPI). According to industry-funded body UK Music, YouTube brings in about 50p per user per year.
That, and recorded cases of the UGC loophole being used to drive down rates for smaller players – see here** and here – persuaded the European Commission to act.
The changes are intended to ensure "takedowns become stay-downs". Platforms that deal with UGC are obliged to put in filtering measures to stop repeat infringers.
"Google already filters, but if you use them it pays you less," Hunt told us. The 100 per cent independent artist Zoe Keating – who is her own label and publisher – found this out the hard way.
So Article 13 will break the Internet because everything must be filtered?

Here's an app with our tech in it. In the approx 30 sec it took make this UGC, we were able to search, identify, clear, annotate, and report usage across three separate sources with zero restrictions. pic.twitter.com/LFrFsXktUQ

— Alan Graham (@agraham999) July 2, 2018
The draft changes worked their way through the Council of Europe for several months with nonprofit encyclopaedias (i.e. Wikipedia) and nonprofit source-code repositories winning exemptions from the proposed changes to Article 13.
Although the European Commission has tried to debunk the idea that links are being "taxed" or "memes are being banned", in recent weeks MEPs have been deluged with emails generated by online campaigning systems complaining about just that.
UK Music condemned what it called a campaign of bullying – using bots that don't verify the signatories' location, or how many times they've submitted a protest email. The industry-funded body said Google employs 14 lobbyists and claimed indirect lobbying was worth €31m. Chief exec Michael Dugher accused Google of "trying to submerge the truth under a tsunami of misinformation and scare stories pedalled by its multi-million propaganda machine".
Meanwhile, campaigners on the other side, including the European Parliament's sole Pirate Party MEP, Julia Reda, argued the changes amount to censorship.
#Article13, the #CensorshipMachines, has been adopted by @EP_Legal with a 15:10 majority. Again: We will take this fight to plenary and still hope to #SaveYourInternet pic.twitter.com/BLguxmHCWs

— Julia Reda (@Senficon) June 20, 2018
Fewer than 10 votes in Parliament could swing the vote – so Wikipedia's intervention could prove decisive. ®
Bootnotes
*Described by activists as a "link tax", the change allows European newspaper publishers to request royalties for verbatim use of snippets, but there's no obligation for sites like Google News or PR industry aggregators to strike a deal. When publishers in Germany and Spain withdrew their material, Google just carried on without them. Citing and linking – such as "There's a great article in The Guardian today about ferrets [URL]" – remain unaffected.
**The YouTube contract required independent music companies to promise never to sue someone who uploaded their work to YouTube. This prompted an official complaint, citing five ways Google was abusing its video monopoly.
Sponsored: Minds Mastering Machines - Call for papers now open
[from https://ift.tt/2m5N8uC]